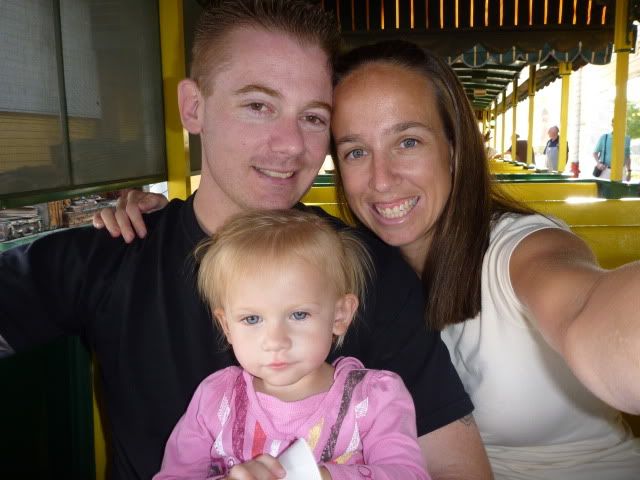 We spent four days in Laughlin to celebrate Kevin's birthday, and we had such a
WONDERFUL
time. I'm not going to go nuts with a day-by-day journal, but I will share a bunch of fun pictures that we took while out there. I know a lot of you wonder what we do out there without a boat and jetskis, but lets just say we don't need those things to have a good time. We're a pretty simple family and we find fun in just about anything. We just enjoy spending time as a family, and for us, that's where all the fun is!
So, for those of you wondering what we do out there for fun, we typically go swimming in the pool/jacuzzi, take Dakota to the nearby playgrounds, ride the choo-choo at the Tropicana, eat our hearts out at the buffet and other super yummy restaurants, gamble a little, ride the water taxi along the Colorado river, and walk around the different casinos. That might sound boring to some, but that's what
we
find fun! It also helps that Kevin gets great deals through the hotel, as well as credit points to put towards meals at the restaurants and such.
Anyway, here's how our weekend went...
Dakota had a great time going down the spiral slide at a local playground...
Going down another one of the many slides at this park...
We had a blast riding the choo-choo at the Tropicana Hotel.
We let Dakota swim in the pool
Although, I think she was expecting warmer weather and some waterslides
We made sure Dakota got her daily arcade fix
We had a great time on our post-Hawaii vacation, vacation. Grandma Debbie was also nice enough to come out for one night and watch Dakota while Kevin and I went out for his birthday. We had a rack of ribs at Outback, along with some drinks, then Kevin hit the craps tables. He got lucky and walked away with some winnings. Way to go Kev!!
Posing with mama in Oatman...