Ok, well here they are. Here are the "before" pictures of our itty-bitty backyard.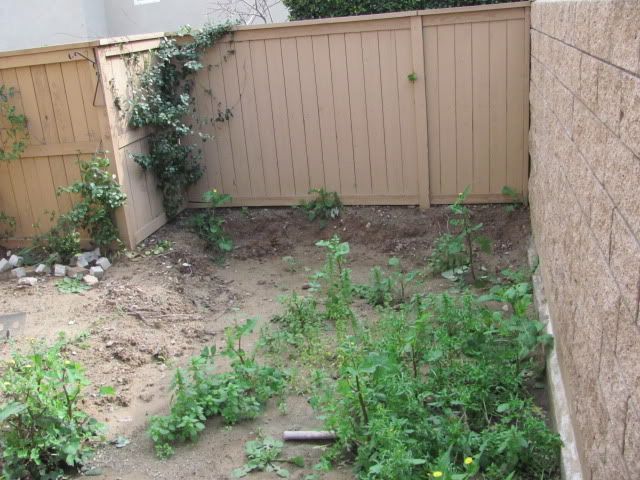 It might not be all that big, but I know Dakota will still have a blast back there. We don't need much, especially since we find a lot of fun outside of the home. But, it'll certainly be nice for Dakota to have a little play area when we're having one of those nice relaxing days at home, or a place to hang out when we're BBQing. =)
We're still waiting on the weather to cooperate, but hopefully it will be done within the next few weeks. As long as it's done by Springtime, I'll be happy!
I'm also
SUPER
excited with how the playhouse turned out. I know I said it was in great shape, but after spending about 4 hours scrubbing it down this past weekend, it looks brand new!! I was also able to order some parts that were missing and/or in major need of replacing. When we bought it from the previous "owners," we discovered the skylight cover was missing. I was bummed when I found that out, but luckily Step2.com has them available for replacement since they still sell that model of playhouse. And would you believe the skylight was only $4.
FOUR DOLLARS!!!!
Omigosh, I wanted to order 10. I don't know why, but I just felt like I should.
LOL
I'll probably order one more, just in case something happens with the one we have. I also ordered new stickers, since the ones it came with were either missing or nasty! How much were those you ask? $1.25!!!! It felt great to not only find replacement parts, but to find replacement parts at a reasonable price! Anyway, here are some pictures....
The

NEW

stickers. Doesn't it look great?!?!
I can't wait to take pictures of Dakota enjoying the playhouse once it's fully assembled. She tries so hard to get in there and play around, but we try our best to keep her away so that it's even more special once it's all put together! We'll definitely be having a "house warming party" once we have it up. I know two little boys that she's gonna love having over to play =)