Day
three
didn't start quite as early this time. We were all up at about 6:30am though. Once again, we had breakfast on the lanai. Some birds discovered we were out there, so they hung out on the railing hoping for a hand out. That was the end of breakfast for Dakota, since any distraction pretty much means mealtime is over.
Once again, we were out by the pool at 8:30am. We checked in and got our towels and wristbands for the morning. Dakota was now sportin' three different wristbands, which she was quite proud of. She watched Daddy and I get ours, and then, without skipping a beat, put her arm out there so the the girl could put one on her. Most people take their wristbands off at the end of the day, but kids tend to leave theirs on because it's the "cool" thing to do. I figured why not leave Dakota's on. She might have a problem with things hanging around her neck, but she doesn't mind bracelets. Anyway, we hung out around the pool for a few hours, and of course hit the waterslides with a vengeance!!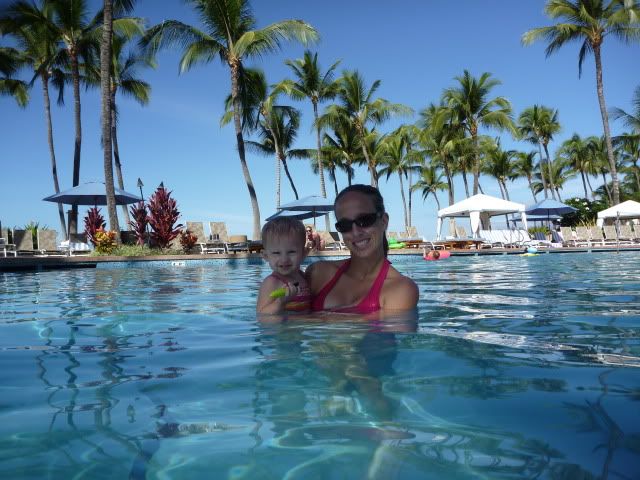 Playing in the kiddie pool...
I can't describe the pure joy this kid gets when tossed in the air...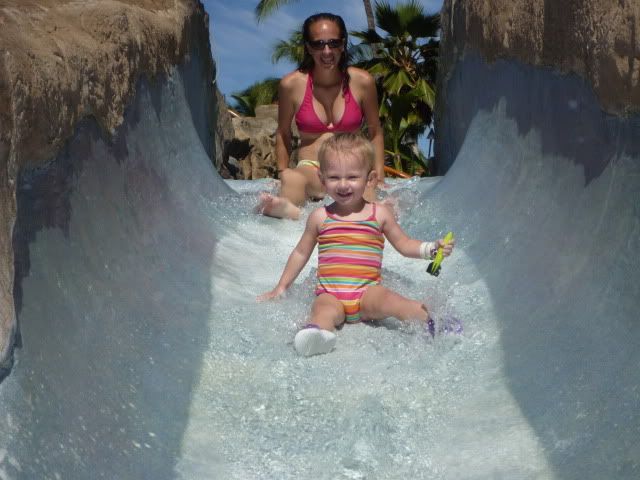 Can't forget the waterfalls...
Unfortunately, we couldn't hang out at the pool all day, since we were meeting Grandpa Keyworth and Grandma Kathy in Lahaina for lunch!! What a great place to meet up, huh? They were staying at the Westin on Ka'anapali Beach, which is about 45 minutes from where we were staying. Lahaina is a great little town, and has lots of shops. I was definitely looking forward to a little shopping on top of meeting them for lunch!
So, we got to Lahaina around noon and met them at Kimo's for lunch. Dakota was very happy to see them and certainly enjoyed all the love and attention she got from Grandpa and Grandma! Lunch was really good, and so were our drinks. Once again we got to sit right by the water.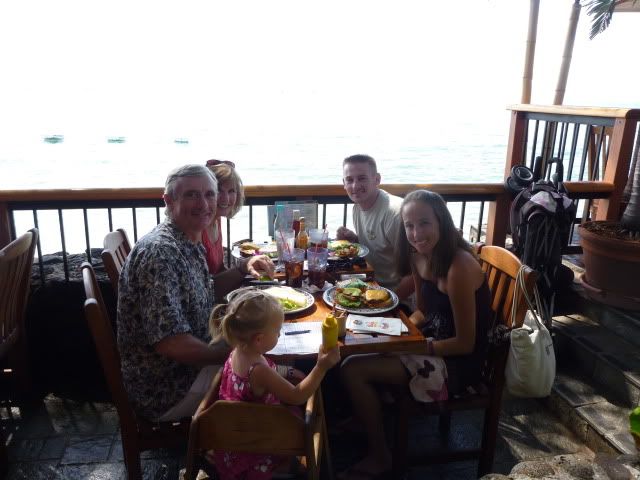 We walked around a bit after lunch and took some pictures at the famous Banyan tree. This thing is
HUGE!!
I can't even begin to describe it's size, but it takes up an entire block. There are wooden supports that hold up these huge branches that look like they've become actual trunks. I actually remember this tree from my very first visit to Hawaii. I was about 7 or 8, and I thought the thing was something out of a storybook. It was neat to see Dakota run around under the branches. She seemed to really like it!!
As we all walked through town, we came across a little photography stand, which had a family of parrots perched up on these stands. Dakota was fascinated with the colorful birds, and I was fascinated with wanting a family picture with them. So, that's exactly what we did. The birds were super friendly with us, but not so much with each other. The guy had to separate two of the birds before they pecked each other to death. As you can see from the picture above, the little green one was so sweet and layed in my hand calm as can be. Dakota held him for a few seconds, but then decided she wanted nothing to do with him and dropped her hands. Luckily, Daddy's hands were right there, so he didn't drop straight to the ground.
After lots of shopping, we had a few drinks at another restaurant. Dakota had a great time playing with grandpa and the drink umbrellas. She also insisted on having everyone's lime. If I haven't mentioned this before, Dakota is a lime fiend!!! The first time she tried one, I thought for sure she'd give us a sourface, but nope, she loved it and just kept on lickin'! So anyway, both the lime and Grandpa kept her happy-as-a-clam while we all enjoyed a few drinks.
After lots of shopping, catching up, and drinks, we decided to call it a day. Before we left Lahaina, Dakota ran into the Bubba Gump Shrimp. You should have seen her eyes light up. The girl must have thought she was at Disneyland again, because she ran right up to him and gave a huge hug. Silly girl!
Once back at our hotel, we met up with the other Grandpa and went downstairs to order some dinner from the cafe. We ordered it to go, then brought it up to the room so we could enjoy it on the balcony. It was a good meal, and it was nice to enjoy the warm night outside.
After dinner, Grandpa called it a night, but we decided to throw our bathing suits on and head down to the pool for a little night swimming. Unfortunately, the slides were closed, but we were free to use the pool and jacuzzi. Dakota hung out in the spa for about 3 minutes before wanting in the pool. So in she went with Daddy!!