Well sadly, day
nine
was our last full day in Hawaii! We were preparing ourselves for our departure and "thought" we were ready to come home, but as I sit here typing this I realize we never really ready to come home. Oh well, you can't stay there forever. Unless you lived on a resort, didn't have to work, could bring your favorite friends and relatives to come live with you, and had constant cashflow coming in, it just wouldn't be the same. Plus, not living there makes you appreciate the times you do go for a visit. I tend to think we'd take a place like that for granted if we lived there. Can you tell I'm trying to make myself feel better?? lol
Anyway, we headed to the pool for the very last time. We spent a good six hours at the pool doing all the things we enjoyed doing during our entire stay. We went down all the slides, played in the waterfalls, ate shaved ice, enjoyed a yummy lunch, and played out at the beach.
At one point, I found a lady braiding kid's hair by the towel counter and asked if she could do someone as young as Dakota. She said that if I could get her to sit relatively still, she could do it.
PERFECT!!
Dakota is great at staying still as long as you give her plenty of things to play with. It took her about 20 minutes to do all four braids, and they came out so cute! Actually, Dakota still has them in her hair, and it's almost Tuesday.
After she got her hair braided, we headed down to the beach to play in the sand one last time. It's like Dakota knew we were leaving because I swear she just stood there at times, staring out at the ocean.
Pure sassiness! We've got it coming when she hits her teens alright!
She kept staring out at the ocean...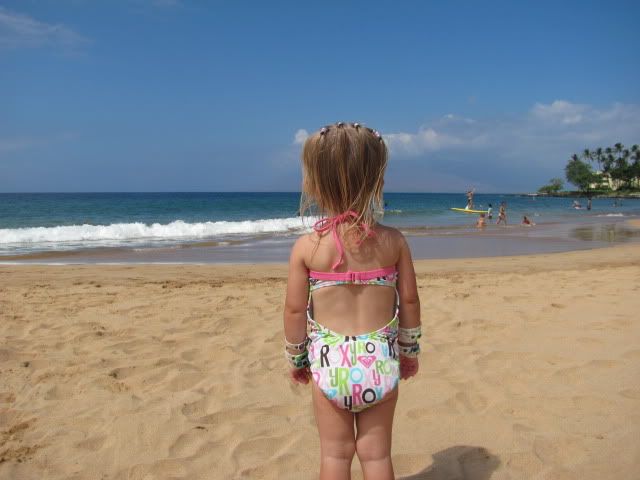 Dakota finally had enough of the beach and started walking back to the pool. She darted over to baby beach and stomped around there for awhile. She then started pointing out towards the bigger pool and yelled out, "waterfall!" So in the pool we went...
Dakota stomping in the water...she's so dramatic!
Last walk through the cave...
The last thing we did at the pool was ride the water elevator. The thing is actually pretty cool. Kevin and I didn't go on it the last time we stayed there, so it was a first for all of us. Apparently, this is the only water elevator in the world. I guess there isn't much need for them, but it was cool to at least ride in it. You board the contraption from ground level, then the operator takes you up as you sit on this seat. It slowly spins around as you go up. I thought it was pretty neat, and I think Dakota liked it too.
Dakota getting twirled in her floaty as she's taken through the waterfall
It was finally time to pack it all up and call it a day. It was hard leaving the pool knowing that we wouldn't be back the next day. Once in our room, we put Dakota down for a nap, and I headed to the Spa to enjoy an hour long massage. This may sound pathetic, but it was my second one ever. Where was the first one you ask? At the Grand Wailea back in 2005. LOL. Ya, I should probably pamper myself a little more, but unfortunately I never seem to make that time. Oh well.
It was a great massage, and it was nice enjoying the jacuzzis and different relaxation baths and massaging showers. The place is massive and I really wish I would have stayed a little longer.
After my massage, I came back to the room feeling like a wet noodle and starving for some food! We got dressed and headed to Tommy Bahamas Cafe for dinner. It was a wonderful last meal, especially since I got to enjoy their shrimp and scallops and key lime pie one last time. Unfortunately, Dakota is a scallop fan too, so Momma had to share.