In this modern day, technological world it's really comes as no surprise that two toddlers can be long distance friends. Hehe. Ok, it's really two mommies that met over the internet that made their friendship possible.
Yep, I got to meet another one of my whattoexpect.com mommy friends this past weekend. Niki is from Ohio and her daughter Isabella is a week older than Dakota. She actually has two other daughters, but they weren't able to make it out with her this time. Niki was only in town for four days, but I was lucky enough to get penciled into her busy schedule while she was out here. She actually called me up on Thursday to see if she could borrow Dakota's pack n play. So I got a sneak peek that night when I dropped it off to her. Unfortunately, both girls were asleep and it was FREEZING outside, so it was a very brief visit.
Luckily, the very next day we all got to spend a few hours at Downtown Disney. The girls had a blast running around, splashing in the fountain, holding hands, eating snacks, licking dum-dums, and completely ignoring anything me or Niki told them
NOT
to do. It's like they've known each other their entire lives because everything one did the other did, and almost right on cue. I guess that's just a two year old for ya.
Anyway, we all had a great time. I just wish we would have had more time to spend with each other. Enjoy the pictures!
I can't tell you how much fun they had playing in the water.
They loved holding hands!!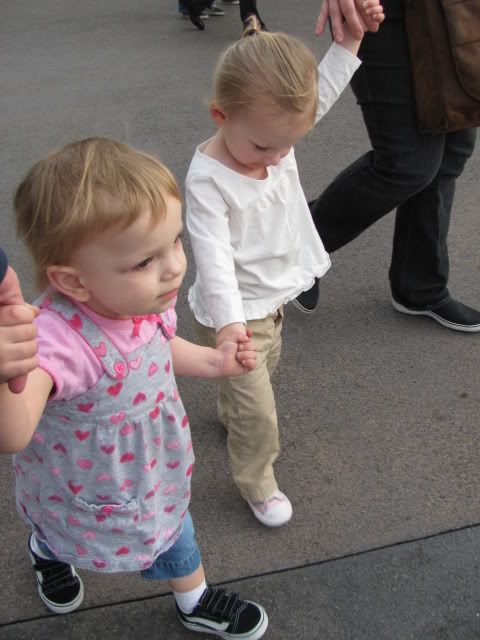 These next three are my favorite.
The girls wanted to play ring around the rosies, and Niki was sweet enough to do so =)
And of course, we had to get a picture of all four of us!!
Niki, thank you
SO
very much for making time to meet with Dakota and me. You are such a sweet, genuine person and I just love your personality and sense of humor. Seriously though, why do you have to live so far away?!?! As for Isabella, OMG, what a character that girl is. She is such a happy child and her facial expressions crack me up. I'm amazed at how much postive energy pours out of that child, which can only be attributed to one thing...
GREAT
parents! You and Tom have done a wonderful job. I can only imagine how wonderful Carly and Abby are in person. And Niki, thank you so much for the super cute T-Shirt and postcard you bought for Dakota. That was so thoughtful and sweet of you. I had Dakota all decked out in her shirt so I could take a picture, but the batteries were completely dead, so I'll add the picture to this post as soon as I take it. We miss you guys already!! =(