So on day two, we had to head out of the house for a few hours, since the cleaning people were due to arrive. Before heading out, I took Dakota out to take some pictures of her. I was worried that my Canon camera might have been damaged after it took a header into the concrete back home. I was so bummed! Anyway, it doesn't seem as though there is any internal damage. Thank goodness! I love my camera so much. Although, some of the quality is lost when I upload pictures through blogger.com. I've decided to upload some pictures through photobucket, so some of the crispness is still there, but they usually turn out huge (like the one above), so I limit myself. lol.
Dakota and her devilish grins!!
Anyway, we eventually ventured out of the house. I had researched "splash pads" in the area, and figured that would be a perfect thing to do while we were out and about. We went by one park, but it looked like a total dud. There weren't a whole lot of trees, and it looked as if the water only came out of the ground. Ya, I know, I'm picky! As we made our way back through the neighborhood to look for another park, we noticed a couple fire trucks with their hoses laid out. I saw a little bit of white smoke coming out from the side of a house and figured it was something small. We parked there for a few and within 5 minutes there were at least ten firetrucks all around this house. By this time, black smoke was billowing out of the second story windows and doors. I felt so bad for these poor people. Losing your house and belongings has got to be one of the most devastating things one can ever endure.
So, after we watched the house fire, we headed for the next park. It was much better than the last one, and it had lots of of different water spouts and structures for Dakota to play in. Unfortunately, we were the only three there, but that's okay. Dakota certainly wasn't complaining!
After our little outing, we headed back home and instantly got our suits on. Well, at least two of us did. Dakota already had most of her swim gear on from the splash pads. We only went into the pool once on this day since Dakota was not feeling very good. You couldn't tell from the pictures that our normally happy child was a super cranky, leg hugging, whiney kid. The only thing that made this girl happy was water! Otherwise, I would have probably kept her out the pool.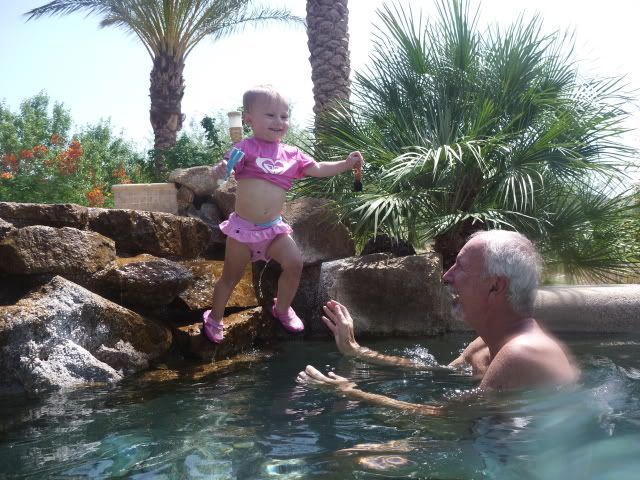 Can someone please tell me what's so darn funny underwater?? LOL
After our swim, Dakota went down for a good solid 2 1/2 hour nap. When she woke up, we had a snack and just cuddled. We walked around a bit outside, since nothing was making her happy inside. Even when we were outside, she insisted on being held or sitting on my lap. She just wasn't into her typical explore mode. I was happy to oblige, since it's nice to have a cuddly kid sometimes!
Later that night we decided to take a walk around the village since they had the jazz concert going on. Dakota ran around a little bit, and we passed through some of the shops. Dakota found the fountains and played in the water before heading back home. It was nice to take her mind off of being sick, since being outside usually makes her happy.