Like I mentioned in my prior post, I am by no means saying that I am some great money saving, professional shopper. I still have a lot to learn when it comes to saving money, but I did want to share a few of my own money saving tips! I love reading other people's blogs that post ways to save money. I have learned a lot from other people, especially other mothers! I do owe a lot of my thriftiness and money saving ways to my father. He always taught me to
SAVE SAVE SAVE
! So thank you dad!
Here are a few money saving tips that come to my mind:
Comparative shop! It's so easy to do this now, especially since we have the internet at our fingertips. It doesn't take that long to look around and find out where the good deals are.
Stay away from the malls at all costs! LOL. I think this is where most of us fall into the impulse buying category. I know I do!!
Buy generic!! Obviously, you can't buy everything generic, since some things

NEED

to be a brand name, but that's more of a personal preference.
Shop online! This is where I do all my comparative shopping, as well as shopping in general. I love Amazon, Ebay and Craigslist!
Buy things used! Just like generic, not everything can or should be bought used, but certain things can. Again, this is a personal choice, but I have found some great buys on Ebay and Craigslist, and you'll be surprised how many things have been barely used.
Consider Outlets, and not just for clothes, I mean for appliances too. I'll tell you why a little later.
So another tip, and one of my favorite thing to do is look through furniture or clothing catalogs like Pottery Barn, Macys and Nordstroms. Then I search for that same look somewhere else, at a much cheaper price. Obviously, we all know how ridiculously priced those three stores are. I love their look and quality, but I have found much better deals at different stores that have the same look. And I have yet to compromise quality when saving a few extra bucks. A few of my favorite stores to shop at that I can always count on to deliver quality products at great prices are:
Target
Cost Plus (coupons are great here)
Sears
Old Navy (love Item of the Week!!!)
Costco
Walmart. Yes Walmart! Although we usually just stick to the electronics and clothes for Dakota. Some may argue that Walmart's clothes aren't the best quality, but geez, Dakota will grow out of them before they're even close to falling apart.
I also love to shop online for a lot of great deals. Amazon is the best, and I think I have become their #1 customer since having Dakota. And no, it's not just a trick to get the UPS man to come to our door more often. LOL
Anyway, the whole point of this post was to let people know that you don't have to spend a lot of money to get quality products. If you're smart about it, and take a little time to do some research, you can find great deals!!! You won't find this girl at Nordstroms or Macys unless there's a reaaaally good sale going on.
Here are a few things in our house that we bought at places that some people would never consider or want to buy from, but for us it worked and we have never regretted our choices...
6-pc furniture set bought at Levitz. 5 yrs and going strong!!

TIP

...always buy microsuede with kids!! Very durable and easy to clean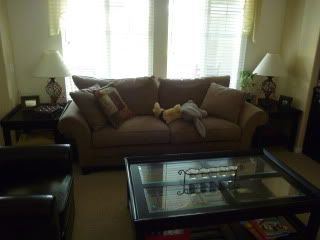 Bought the Maytag Refrigerator at an manufacturers warehouse outlet. You can buy products that have dents in them for $500-600 less! This one had a dent on the right side, which you wouldn't be able to see because of the cabinets. But that's not even an issues since they delivered us a brand new one on accident. The microwave and stove were bought at Pacific Sales because they're so darn cheap!
As for Dakota's room, I did want to save money by buying furniture at stores that had products at great prices, but the grandparents wouldn't have it. So thanks to my dad and Grandma K, Dakota got an awesome 3-in-1 crib, armoire and dresser, which will be lasting her til she's 18!! A lot of the other things you see in the picture were bought from Ikea (table & chairs), garage sales (toy organizer), Dave & Busters using reward points (stuffed animals and toys), etc.