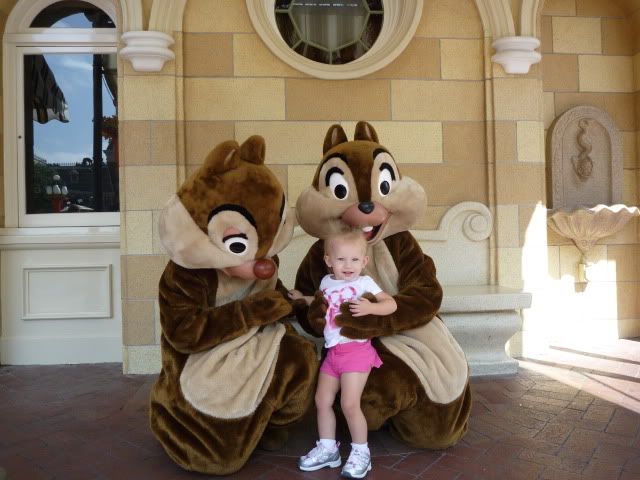 Again, I promise not to do a post everytime we go to Disneyland, but I thought it would be fun to share a few more of our visits. As you can see from the picture above, Dakota got to meet Chip and Dale. She ran right up to Chip and gave him a huge hug, then ran over to Dale and gave him a hug, then ran back over to Chip for another hug. It was so stinkin' cute. I wish I would have gotten it on video, but the pictures will have to do. At least she was willing to look at the camera and smile. The characters are
SO
wonderful about turning her around so I can snap a few pictures.
On this visit, we actually headed over to Tom Sawyer's Island for some exploring. Dakota
LOVED
it over there. She had a great time watching the Mark Twain boat cruise by and waved at everyone aboard. It's so neat to see people wave like they do from a boat. It always makes me happy to see people do that, and Dakota certainly loved waving back.
I wanted Dakota to do her own exploring on the island, and that's just what she did. By "own exploring" I simply mean that I wasn't the one leading the way and telling her where to go and what to see. I just followed her! And to my surprise, she loved the freedom and didn't even need mama's hand when walking across the swinging bridge. She did, however, need my hand when she walked through some of the tunnels, but hey, at least she went in those dark scary caves. lol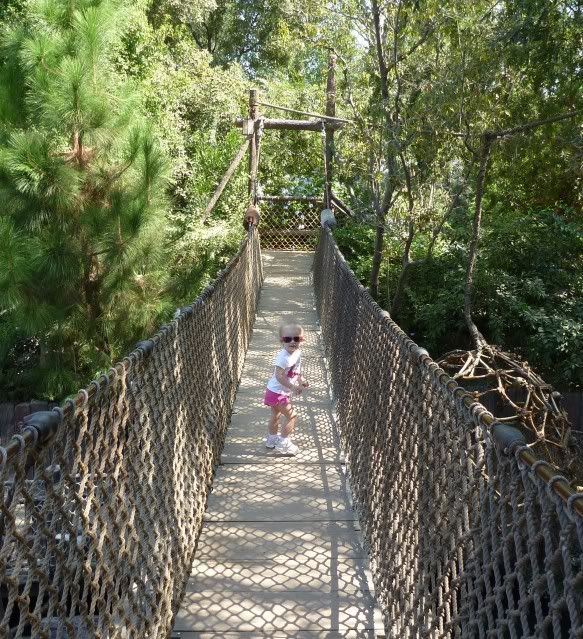 After our little adventure on Tom Sawyer Island, we headed over to the petting zoo so Dakota could get her goat and sheep fix. She loves the animals and is always so gentle with them. Just outside the petting zoo is a super neat Halloween display that I snapped a few pictures at. They actually had the same display up last year, and we took some family photos by it then too. I'll have to share a few of those from last year at the end of this post.
Our last ride of the day was the Teacups. I didn't do a whole lot of spinning since it was Dakota's first time and I didn't want to freak her out. The ride did a good job at whipping us around, so spinning it really wasn't necessary. She loved it and I could tell it gave her instant butterflies because she kept grabbing her tummy, putting her chin to her chest and giggling.
And now some pictures from last year. I just love looking back at these old pictures. Geez, it seems like just yesterday. Where does the time go??