So, Kevin finally bought himself a pass after hearing all the fun we were having without him. I have to say, it was probably the best $144 investment ever because now we can go as a family all the time!
Well, the other day Kevin got off of work at his normal time (3pm) and we decided to head to Disneyland for dinner and fireworks. We couldn't really decide where to eat, but thought we would stop by Big Thunder Ranch BBQ just to look at their menu. Well, the menu consists of all of this
AND
it's all-you-can-eat.....
So, needless to say we stayed and chowed down! It wasn't the cheapest meal around, but it didn't break the bank either. And let me tell you, it was so
a-w-e-s-o-m-e-!
Dakota loved the cornbread and beans, but just wasn't into the eating thing. Yes, she's on another one of her fabulous food strikes. It's so frustrating! It's actually turned into a texture thing, and will pocket certain foods in her cheeks that are not to her liking (chicken, pasta, bread...). I'm sure she'll move onto being picky about the color of her food next.
Anywaaays, after dinner we hit the rides with a vengeance!! Daddy had lots of making up to do, so he took Dakota on most of the rides. They went on Dumbo, the Carousel, and Mr Toads Wild Ride. As a family we went on Pirates of the Carribean, Haunted Mansion (SO NEAT!), and It's a Small World. Daddy got to see first hand how excited Dakota gets during It's a Small World.
Waiting in line for Dumbo...
She loves looking at the outside display because of the clock...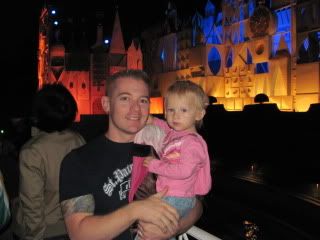 Dakota doing her best to release to sword in the stone.
"C'mon daddy, use those big muscles to help me out!!"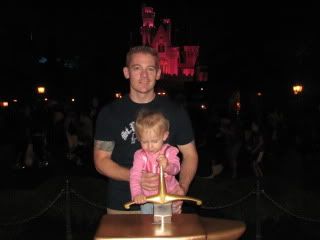 So after all of our fun around the park, we headed over to Main St to claim a spot for the fireworks spooktacular show. We waited about 30 min before it started and during that short time, Dakota was ready to pass out. It was obviously past her bedtime. I obviously thought about this before planning our trip, but I figured all the excitement and having had a a great nap earlier in the day would help her to stay up. Well, she did in fact stay up, but she was not a happy camper. Then, when the fireworks show got under way, we discovered we had picked a spot right under the speakers. I guess we really didn't expect loud, scary halloween music to be blaring all around us.
OOPS!!
So ya, the scary music, coupled by a tired, cranky toddler so did
NOT
mix. Oh well. I think she would have loved the fireworks if it weren't for the music. So, we'll try again after halloween.
Me and my love waiting for the fireworks show...