...that's what you'll hear Dakota screaming when Disneyland is in her sights! Yes, I broke down and got a Disneyland pass. I couldn't pass up the opportunity when "someone" offered they get one for me. Call me a sell-out, I know it's true! I always wanted to keep Disneyland a "special" place, because I truly believed a kid could easily take such a magical place for granted. Well, I'm not sure that is going to take place because all the times we've gone since getting my pass in Septemeber, Dakota literally squirms, flails, and shakes in her stroller when she sees the grand entrance to the park. And, I'm pretty sure she's reconizing the parking structure as being connected with Disneyland too. She definitely spots Mickey Mouse on the structure's pilars and lets everyone know who it is too. At least she's an enthusiastic kid!
Speaking of enthusiastic, my child is beyond
OBSESSED
with the Disney characters. I'm actually quite shocked that she runs right up to them without any hesitation, especially since I've seen most kids her age shy away or scream bloody murder if they get anywhere near them. But Dakota will hop right out of her umbrella stroller (if not tied down) and make her best getaway attempt so she can run up to them and give 'em a hug. Obviously, there's usually a line to meet the characters, so I do my best to distract and keep her from freaking out while we wait our turn.
Here are some great pictures of her meeting her TV buddies the first time we went. Oh, and her MO is to run up to them, give 'em a hug, then a kiss, then a high give, another hug, then wave bye-bye.
LOL
....
So, after she met some of the characters, off we went to enjoy some fun rides. Dakota is a pretty daring girl, so I knew she'd love Pirates of the Carribean. Plus, she had already been on it last year. Yep, we took her on it when she was only 8 months old.
LOL
. Call us crazy, but if Disneyland allows it, then we figured why not.. Anyway, she loved the drops and squealed out, "weeeee" as we went down. She giggled at the pirates and got a good laugh at watching the men chasing women, and vice-versa.
We also went on her favorite, the carousel. If you ever want to see Dakota at her happiest, plop her down on a carousel horse. You'll have a friend for life!
Now, we all know that Dakota's favorite ride is the carousel, but It's a Small World comes in at a close second!! I wish I had better pictures, but they came out horrible! But, here is a picture of Dakota mesmerized by all that takes place during the ride. We've been on it at least 5 times, and everytime she'll sit there watching oh-so intently, and will occasionally squeal out with a "treeeee," or a "clock," or a "butterfly" when she sees one.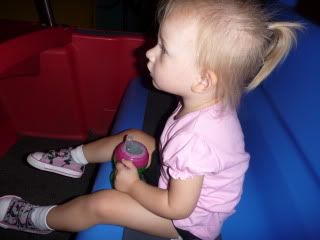 We also took a walk through Toon Town, which she thoroughly enjoyed. She loved running through everything and playing in the dog pound.
We only stayed for about three hours, but that was enough for us considering mommy now has a pass and we only live 20 minutes away! But, before we left, we took a ride on Dumbo. She was no stranger to this ride, because we took her on it last year too. I think this time she appreciated it a little more...
Such a care-free spirit!!
Stay tuned for a few more posts from our most recent trips. I won't do this all the time, but our first couple of trips to Disneyland were truly magical! =)